I hear "smart" so very often, especially in the context of technology so when I saw it being brought up in the context of baby care I must admit I was a little bit intrigued.
My other half and I have been in the market for a baby monitor since our little one joined us on the journey. We have recently moved into our new home, a green, sustainable take on the concept of modern living with a few smart features, especially in respect of air ventilation and heating. And when one lives in a house which is "aware" of its environment, it makes sense to make smarter choices in relation to everything else 🙂
---
SEARCHING FOR A SMART BABY MONITOR
Higher up in the list of features I wanted in a baby monitor were:
iPhone app so that we can use our phones as monitoring screens, and
A high resolution camera to give us high-def imagery of the kid / cot area.
We found the Cubo Ai Plus. Some say it's the World's Smartest Baby Monitor and, I must admit, they were right! We were truly captivated by the story behind how Cubo Ai came into being. Joanna (co-founder) had met her first baby after 6 IVF attempts. One day she found his face accidentally covered. What ensued was a loss of sleep which carried on for months, with her waking up constantly in the middle of the night, worried about missing the moment when her baby needed her the most.
Joanna decided to do something about it. So she recruited a paediatrician, A.I. experts and a few parents in tech and sought to create the first baby monitor ever to apply A.I. to baby care. Cubo Ai launched in July 2019 on Indiegogo, the place where early adopters and innovation seekers find lively, imaginative tech before it hits the mainstream. It raised more than 1,000% of their funding goal from almost 3,000 backers. They have since won several industry and marketplace recognition awards like CES Innovation Award 2020, JPMA's Best in Safety 2020, Mom's Choice Awards 2020, and NAPPA Awards 2020.
We were sold. I mean the timing was great as we were looking to get a baby monitor and found so much more than that: a smart device which can send you real-time notifications on your device when something seems off (baby has his / her face covered, baby turned on his / her belly, baby is missing from crib), a two-way baby monitor which allows you to play a lullaby remotely, an Ai powered baby monitor that analyses sleep patterns and captures precious moments (like that first time he / she stands up). All in one.
---
MY CUBO AI PLUS REVIEW
We opted for Cubo Ai Plus because it comes packed with everything you need out of the box. We unboxed and installed it the same day and spent a good few hours getting used to all of the wonderful features it brings.
Features we love the most:
Full HD 1080p quality imagery with a wide-angle lens giving you an enhanced perspective of the area you're monitoring. To top it off, you also get amazing infrared light for night vision and a moving, rotatable lens. Plus, you get Temperature and Humidity information on your device too.
Microphone is very sensitive so you can hear any noise coming from the area you're watching, including alerts when the baby cries. There's also a speaker for those moments when the little one needs to hear your voice for comfort. Say goodbye to uni-directional feed.
Internet connectivity and cloud. You can access the feed from any device anywhere you are. I'm so happy being able to interact with my little one whilst at work or travelling.
Versatile support system – amazing stand so you can move it freely from place to place and room to room, ability to mount it onto the crib itself and including a mobile stand.
Ability to designate a certain 'Danger Zone" in the room (for example, the kitchen) and Cubo Ai will alert you when the kid enters that Area 51 🙂 – this is handy with our 3 year-old now and will be awesome once the little one begins crawling.
---
CUBO AI APP
I can also say our sleep coach was very happy as it is so much easier to relay information to her – the Cubo Ai Sleep Analytics provides a 1-day comprehensive sleep report every morning that can help understand the baby's sleep patterns and habits from the night before. A Cubo Ai Premium subscription is also available for free with every purchase of Cubo Ai Plus if you'd like to see thirty days of sleep patterns instead of just one.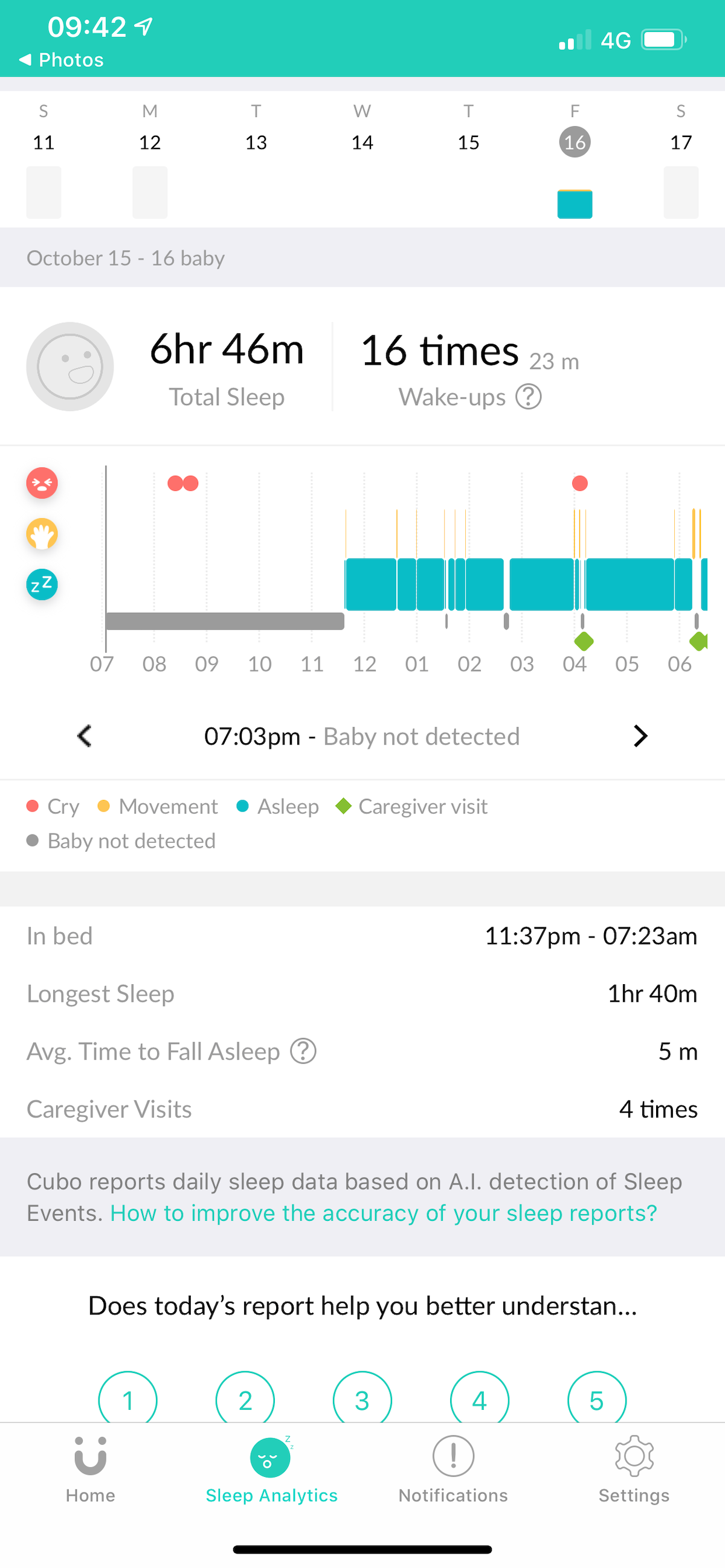 My favourite feature is the Automatic Photo Capture & Moments Wall. I know I will never miss a FIRST moment when it occurs, wherever I am. Cubo Ai can detect if the baby is smiling, crying or making "big moves" and snaps a photo to immortalise the moment. It then adds it to a scrapbook on the Cubo Ai app, organised neatly by date. You can add the entire family to the album so they can enjoy every moment with you.
We have been using Cubo Ai for over a month now and can say it is a smart investment into our peace of mind. We also sleep much better than we used to knowing there's a trustworthy tiny owl guardian watching over the crib when we're not in the room. It fits well and unobtrusively in the scenery like it belongs there.
---
CUBO AI BABY MONITOR SECURITY
Speaking of trust, the data is processed through the cloud to allow us to receive alerts and notifications via the mobile app. There is also a 2-Factor Authentication available to secure your account. And because Cubo Ai is all about baby safety, they're using enterprise-level security to encrypt all Cubo videos/photos which are stored in the Cloud with unique AES-256 bit symmetric key encryption that is only accessible via your authenticated device. Cubo always pushes the encrypted video stream directly to your authenticated device. I can rest assured that only our family can watch our little ones growing up.
You can get yours today on the Cubo Ai website – use code CUBOTALK for an extra added discount on top of their sales price!*
*Code only redeemable on the https://www.getcubo.com website. Cubo Ai Plus is also available on Amazon UK.